↑
Artists · Ensembles · Ensemble Cifra & Ferenc Vizi
'Rhapsodies - Liszt and the Hungarian Gypsies'
Ferenc Vizi   piano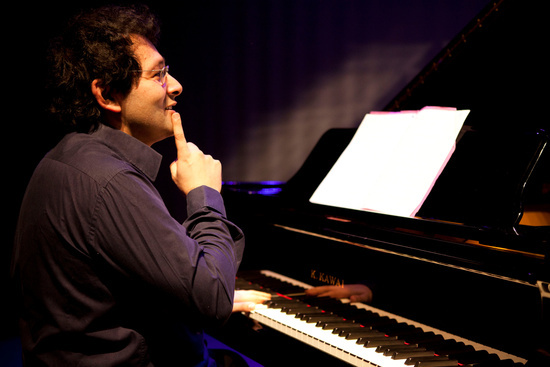 Ensemble Cifra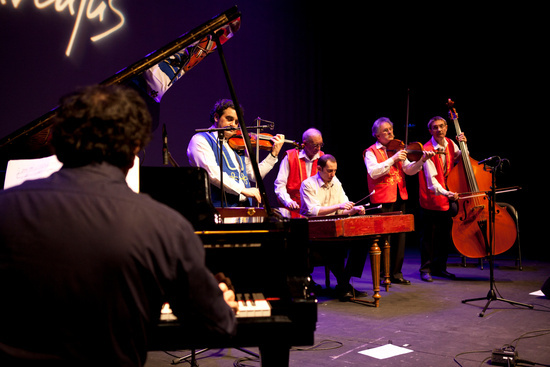 Dezsõ Rontó, prímás (violin)
József Csurkulya (père), cymbalom
Ágoston Bartha, viola & hurdy-gurdy
Róbert Csõgör, doublebass 
with guest artist József Csurkulya (fils), cymbalom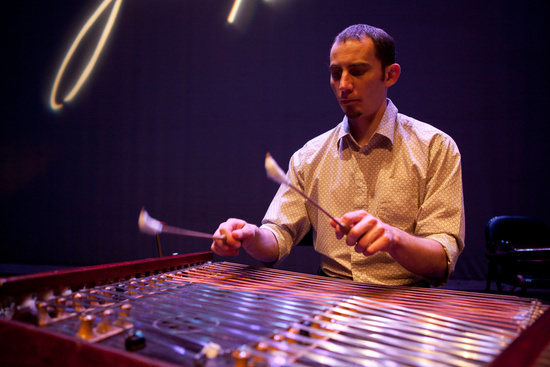 In 1859 Franz Liszt wrote "I am seeking to create an epos of Bohemian music". 
Like many composers before his time, Liszt was totally under the charm of the wild, epic inspiration of Csardas that he exalts as a national symbol. Proclaiming himself to be of gypsy origin, he derives inspiration from their music when writing his famous Hungarian Rhapsodies in which the melancholic Lassan and the fiery Friska, among others, typical of Bohemian song and dance, can be clearly distinguished.
Ferenc Vizi proposes a rediscovery of this fabulous gypsy music, its vigour, its tremor, now iridescent, now poetic, and its powerful influence on Liszt's music, here his piano Rhapsodies, in which the Csardas and other popular traditional or improvised gypsy themes are performed by the ensemble Cifra.
'Chant de Table' - cymbalom and hurdy-gurdy
Liszt - Rhapsodie N°11 (piano and Ensemble Cifra)
Liszt - Rhapsodie N°10 for piano and cymbalom
'Pour me more wine so I can forget her'
Aïe, aïe, aïe, aïe - Gypsy Czardas
Liszt - Rhapsodie N°12 in C# minor for piano
'The old lime trees of Buda'
'The greedy Czardas'
Liszt - Rhapsodie N° 13 in A major (version piano, violin, cymbalom)

p a u s e

Cymbalom solo from the village of Magyarpéterlaki, Transylvania
Liszt - Rhapsodie N°9 'Le Carnaval de Pest'
'Hungarian Czardas' for hurdy-gurdy
'The poppy Czardas'
Liszt - Rhapsodie N°14 'Hungarian Fantasy' (version for piano and Ensemble Cifra) with 'The stork flies high in the sky' 
1h35 plus interval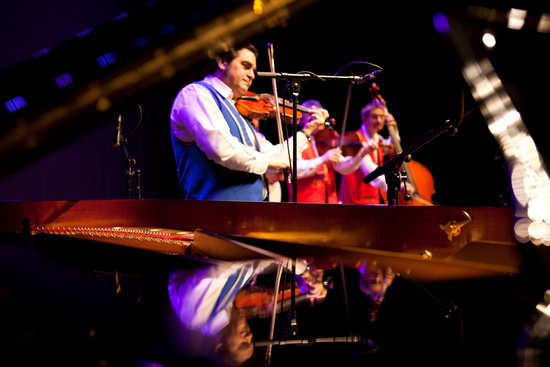 This programme has been performed in the following venues:
Théâtre de la Ville, Paris
Scène nationale de Martigues
Opéra de Dijon
Théâtre de Cambrai
Centre culturel des Portes de l'Essonne
Maison de la Culture de Bourges
Théâtre de Narbonne 
Théâtre Anne de Bretagne, Vannes
La Coursive à La Rochelle 
La Passerelle à St Brieuc
Le Trident à Cherbourg
Théâtre de Caen
La Rampe, Echirolles
Théâtre du Vésinet
Conservatoire du Perreux
Pin Galant de Mérignac
Le Cratère, Alès
Théâtre Impérial de Compiègne
Cultuurcentrum Leuven, Belgium
Salle Poirel, Nancy
Opéra de Montpellier

and in the the following Festivals:
Toulon
Périgord Noir
Lisztomanias de Châteauroux
Voûtes Célestes en Vendée
Nouan-le-Fuzelier
1001 Notes
Festival ArtenetrA
Midis Minimes, Bruxelles
Ensemble Cifra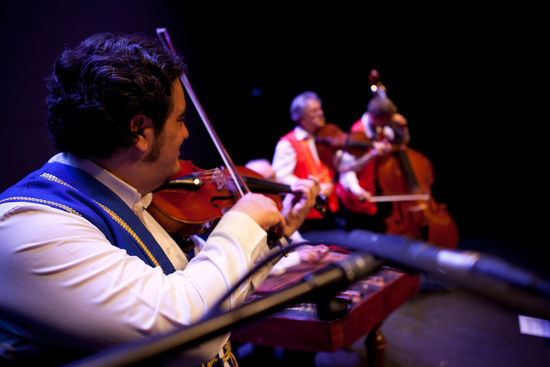 Dezsõ Rontó - prímás (first violin) was born in 1963 into a family of gypsy musicians in Miskolc. His brothers Róbert and Attila are also professional musicians. Dezsõ started learning the violin at the age of 7 and later studied at the town conservatory. In 1980, he became the first of the 'prímás' of the Rajkó Orchestra in Miskolc. In 1986, he was a founding member of the 100 Violin Gypsy Orchestra. In 2001, he was winner of the famous Budapest 'prímás' competition. Since the age of 20 he has been playing with gypsy orchestras throughout Europe and in the USA.
József Csurkulya (senior) - cimbalom, was born in 1944 in Magyarpéterlaka, Transylvania. He started playing the cimbalom with his family at a very early age. By the age of 14 he was performing with the ensemble Maros in Transylvania. As well as his activities as a musician, he dedicates himself to restoring and building cimbaloms and is also a master of string making.
Ágoston Bartha - viola & hurdy-gurdy, was born in 1956 in Budapest. It was in the 1970s that he started to be interested in traditional music. Since then he has become viola and hurdy-gurdy player in several ensembles and as of 1990 has been leader of the ensemble Cifra, happily returning to the free, itinerant life of travelling musicians. He has produced the ensemble's recordings since 1997 and collects pre-war 78 LPs of Hungarian gypsy music, of which he is proud to have one of the most important collections.
Róbert Csõgör - double bass, was born in 1966. He studied cello at music school and became a proficient performer of traditional music at a very early age. He has gone on to play with several ensembles playing alternatively violin, three string viola and double bass.
József Csurkulya (junior) - cimbalom, was born in 1974 in Marosvásárhely near Targu-Mures in Transylvanian Romania. His family is a cimbalom dynasty. At the age of 8 he started to play in the Hungarian State Folk Ensemble in Targu-Mures and after studying percussion at the conservatory there went on to perform with the Targu-Mures State Philharmonic Orchestra. When his family moved to Budapest he studied cimbalom making and performance at the Franz Liszt Academy of Music where he graduated and soon started to teach cimbalom and chamber music. Since 2000 he has been playing traditional Hungarian, Balkan and Near-Eastern music, as well as electronic music and jazz with 'Besh o droM' - www.beshodrom.hu
Photos Arthur Forjonel