↑
Ann-Estelle Médouze, violin
Natacha Colmez, cello
Ferenc Vizi, piano
Green is a tribute to Verlaine's famous poem, written when he was in England, an imploring love poem written for Mathilde, his estranged wife.
Green Trio's programmes are centred on French repertoire of the golden age of the mélodie française, the birth of symbolism, music that is overwhelming in its refinement and subtlety. Their common thread is Green in its four different settings by Debussy, Fauré, Reynaldo Hahn and André Caplet, which in turn open Green Trio's programmes. The trios of Chausson, Debussy and Ravel as well as the works for piano trio by Lili Boulanger are at the heart of their programmes, juxtaposed with those of Beethoven and Brahms… as fits the occasion.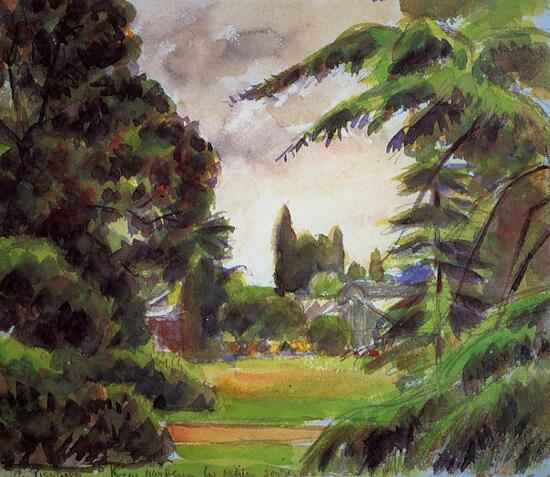 Camille Pissarro, Kew Gardens, the Little Greenhouse
Green
Voici des fruits, des fleurs, des feuilles et des branches
Et puis voici mon cœur qui ne bat que pour vous.
Ne le déchirez pas avec vos deux mains blanches
Et qu'à vos yeux si beaux l'humble présent soit doux.
J'arrive tout couvert encore de rosée
Que le vent du matin vient glacer à mon front.
Souffrez que ma fatigue à vos pieds reposée
Rêve des chers instants qui la délasseront.
Sur votre jeune sein laissez rouler ma tête
Toute sonore encor de vos derniers baisers ;
Laissez-la s'apaiser de la bonne tempête.
Et que je dorme un peu puisque vous reposez.
Romances sans parole, Paul Verlaine, 1874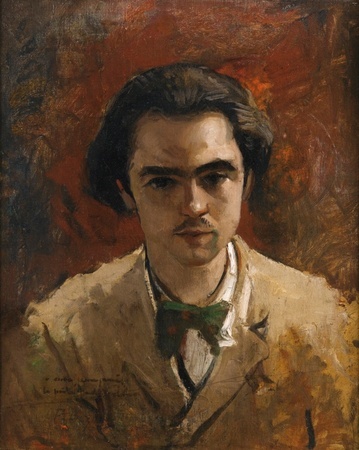 Paul Verlaine by Frédéric Bazille
Debussy - Green, transcription for piano trio, Trio in G major
Lili Boulanger - Two piano trios - D'un soir triste, D'un matin de printemps 
Chausson - Trio in G minor, Opus 3
Beethoven - Ghost Trio Opus 70 No 1
Brahms - Trio No 2 Opus 87
Ravel - Trio in A minor
...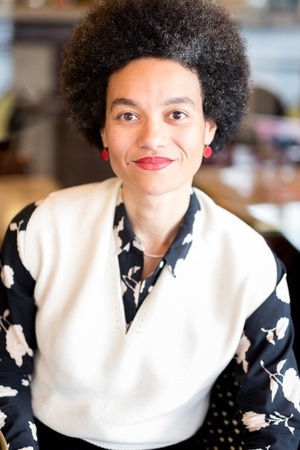 Photo Anne Bied
Ann-Estelle Médouze, violin
Ann-Estelle Médouze started violin at Suzuki school in Lyon before becoming a student of Tibor Varga at the age of eleven. From 1996 to 2001, after obtaining her chamber music diploma at the Lyon conservatory, she studied in New York with Pinchas Zukerman and Patinka Kopec at the Manhattan School of Music. From 2002 to 2004 she pursued her violin studies at the Paris conservatory with Jean-Jacques Kantorow as well as chamber music with Jean Sulem in the Quatuor Alma. Laureat of the Radio France National Competition at the age of thirteen, of the Manhattan school of Music Concerto Competition, of the Vaclav Huml International Competition in Zagreb, she also won the Serge Den Arend prize for the best Mozart performance in 2002 at the Long-Thibaud Competition in Paris.
In America, Ann-Estelle Médouze has played on many occasions with Pinchas Zukerman and Itzhak Perlman, in particular in the Santa Fe Chamber Music Festival and the Perlman Music Program. In 2015, Pinchas Zukerman invited her to Ottawa to play Bach's Double Concerto with him and octets with Itzhak Perlman. In France, she has performed at the Cité de la musique, Théatre Mogador, the Radio France Auditorium Olivier Messiaen, Radio France Montpellier Festival, Lyon Chamber Music Society… As a chamber musician she has performed with Claude Frank, Roland Pidoux, Alain Meunier, Michel Strauss, Vladimir Mendelssohn, Ralph Kirshbaum, Bruno Pasquier… As a soloist, she has played under the direction of David Gilbert at Carnegie Hall, Pinchas Zukerman, Zdenek Macal, Pierre-Dominique Ponnelle, Menahem Nebenhaus, Pablo Castellano, Philippe Bender, Emil Tabakov, Takuo Yusa, with orchestras including the Baltimore Symphony Orchestra, Civic Orchestra of Chicago, Manhattan School Symphony Orchestra, National Art Center Orchestra of Ottawa, National Orchestra of Venezuela, Israel Sinfonietta Beer-Sheva, Orchestre National de Lyon, the Orchestre National d'Ile de France…
She is regularly invited as concertmaster in numerous orchestras including the Orchestre de Chambre de Paris, The National Art Center Orchestra of Ottawa, the Royal Philharmonic Orchestra of London as well as the Rotterdam Philharmonic. She has been concertmaster of the Orchestre National d'Île de France since 2004.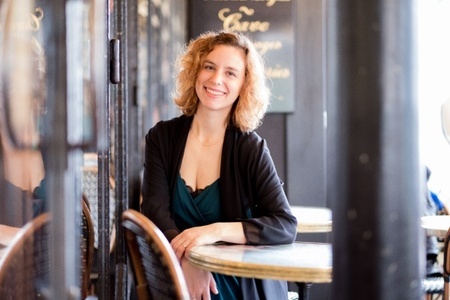 Photo Anne Bied
Natacha Colmez, cello
Natacha Colmez studied at the Paris Conservatory with Xavier Phillips, Philippe Muller, Erwan Fauré and Michel Strauss.
Fascinated by symphonic music, she became solo cellist of the Orchestre de Douai in Northern France at the age of 19. She went on to be a member of the Orchestre Philharmonique de Strasbourg and the Orchestre National d'Ile de France, and became solo cellist of the Orchestre National d'Île-de-France in 2017. Natacha has also had the opportunity to participate in several series of concerts with the London Symphony Orchestra under Simon Rattle and Michael Tilson Thomas. She perform regularly with the Dissonances, conducted from the violin by David Grimal, with whom she has toured throughout Europe and recorded several CDs.
Natacha has been an insatiable chamber musician since her childhood when she spent the summers playing and performing with her cousins and her sister. During her studies she worked particularly on sonata and piano trio repertoire with the musicians of the Ysaÿe Quartet, and with Pierre-Laurent Aimard. She now plays with thr the Ensemble Polygones, of which she is a founding member, in festivals and on radio and with whom she recorded their first CD in the spring of 2018. She is also a member of the Urban Quartet with whom the cornettist Alexis Demailly made his "Fantasque" recording.
A dedicated teacher, Natacha has imagined and set up a number of teaching projects with the Ensemble Polygones, in particular their programme "Amostré - un Roi sans Voix", a musical tale for instrumental ensemble and children's choir commissioned from the composer Fabien Cali and premiered in the spring of 2017. She is indeed strongly committed to working with contemporary composers and has commissioned and premiered a number of works, in particular by the composer Camille Pépin.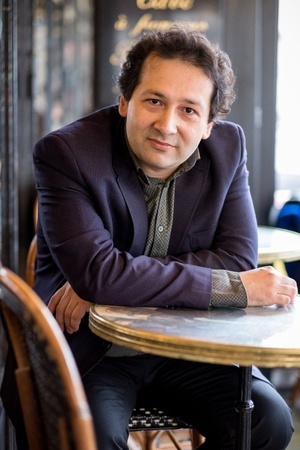 Photo Anne Bied
Ferenc Vizi, piano
Born in Transylvania (Romania) in 1974, Ferenc Vizi started the piano at the age of nine with András Körtési in his native town of Reghin. Gérard Frémy, a member of the jury of the George Enescu competition, in which Ferenc Vizi won a special prize, encouraged him to come and study with him at the Paris Conservatoire, which he was able to do in 1992, thanks to a French government grant and the Yvonne Lefébure Foundation, and where he also studied with Cyril Huvé. In 1998, after graduating with a unanimous first prize at the Conservatoire, he entered the postgraduate performers' course there with Jacques Rouvier, and from 2000 to 2002 went on to study with Françoise Thinat at the Paris Ecole Normale.
Ferenc Vizi has carried off a number of prestigious international prizes: the Saratov competition in Russia, the Hamamatsu competition in Japan, the Arthur Rubinstein competition in Tel-Aviv, and the Munich ARD competition, thanks to which he was invited to perform in South America, Japan and several European countries, and to record Bartók's 2nd piano concerto with the Bayerischen Rundfunk directed by Peter Rundel for the Munich radio.
He has since performed as a recital soloist and with orchestras principally in Europe. As a chamber musician Ferenc Vizi has also performed with Henri Demarquette, Raphaël Perraud, Jean-Marc Phillips-Varjabedian, Alexis Cardenas Benoît Fromanger and Richard Galliano. In 2018 he created Green Trio with the violinist Ann-Estelle Médouze and the cellist Natacha Colmez.
Juventus Lauréat in 1995, Ferenc Vizi is regularly invited to the Théâtre de la Ville in Paris. He has also performed at Radio France, the Grand Théâtre de Bordeaux, Théâtre de Caen, Festival de l'Épau, Piano à Riom, Piano à Auxerre, Serres d'Auteuil, Piano Passion de Saint-Etienne, Musée d'Orsay and the Opéra comique in Paris, and in the Festivals of Nohant, Toulon, Périgord Noir, 1001 Notes, the Nantes Folle Journée, Festival de la Roque d'Anthéron, La Chaise Dieu, Piano(s) festival Lille, Festival d'Eté de Toulouse, the London It's all about piano festival, and numerous theatres throughout France. He has performed with the Orchestre National de Lille, Orchestre National d'Île de France, Orchestre d'Auvergne and performed both Tchaikovsky's 1st piano concerto and Grieg's piano concerto with the Târgu-Mures Philharmonic Orchestra from his native Romania on tour in France at the Pin Galant in Mérignac, Palais Neptune in Toulon, Cratère in Alès and at La Rampe in Échirolles. During the summer of 2016 he gave his first performance of Boulez's 12 Notations at the Juventus Festival and gave several recitals of his Blue Notes programme. Following his remarkable Diabelli Variations performance at the Théâtre de la Ville in Paris in November 2015, he has been re-invited by the Théâtre to play his Chimères & Contemplations recital programme in January 2017.
Ferenc Vizi has created a programme with the Ensemble Cifra that brings together Liszt's Rhapsodies with traditional Hungarian gypsy music and was first performed at the Scène nationale de Martigues and the Lisztomanias Festival in Châteauroux. Rhapsodies – Liszt and the Hungarian Gypsies has since toured extensibly throughout France, most recently at the Théâtre Impérial in Compiègne, and will be performed at the Nancy and Montpellier operas during the 2016-2017 season.
Ferenc Vizi has recorded Beethoven's opus 111 Sonata and Schumann's Fantasia opus 17 for the Æon label, and Voyage - works by Schubert, Liszt, and Wagner / Liszt - for Satirino records. In 2013 Rhapsodies - Liszt and the Hungarian Gypsies was released by Satirino records under the title Czardas Fantasy, Mendelssohn's complete works for cello and piano with the cellist Laura Buruiana by Coviello Classics, as well as an album of works for violin and piano by Ernest Bloch with the violinist Elsa Grether on the Fuga Libera label. Ferenc's recording on Beethoven's Diabelli Variations on the Anima label was released in November 2014, followed by Romance oubliée with the cellist Hermine Horiot on the 1001 Notes label in early 2015.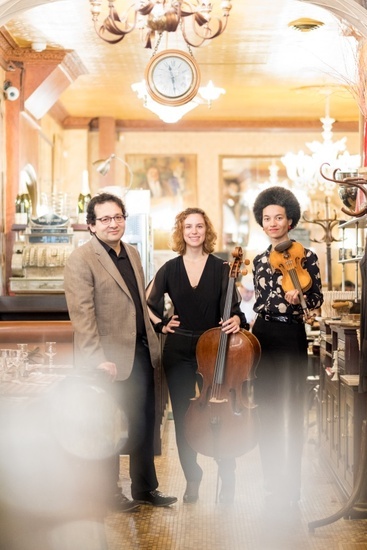 Photo Anne Bied