↑
Ann-Estelle Médouze, violin
Laura Buruiana, cello
Ferenc Vizi, piano
Chosing to name their ensemble after the great Romanian sculptor Brancusi was an immediately obvious decision - the Brancusi Trio was created by two Romanians as a homage to this legendary artist whose international reputation, like that of the great Romanian composeur George Enescu, spread from Paris.
The Brancusi Trio's first project was equally obvious: to celebrate the 130th anniversary of Enescu's birth in 2011 with a world premiere recording of his complete trios for violin, cello and piano, which was released on the Zig-Zag Territoires label. This album has been widely acclaimed in the international media - The Strad, Gramophone, Le Monde de la Musique, Classica, MusikZen, "Choix de France musique" and 5 Diapasons in the eponymous French magazine. The Trio was also invited to take part in several programmes on radio France Musique, as well as on Radio Romania, Musiq'3, Radio Suisse, WDR3, RBB Berlin and Deutschland Radio.
In the wake of the success of the Enescu recording, the Brancusi Trio performed in London, Lisbon, Bucharest, Paris, and recently at the Amsterdam Concertgebouw in the "Holland Music Sessions", as well as at the "Ateneo Veneto" during the Venice carnival.
As well as the great piano trio repertory, the Brancusi Trio is devoted to performing less well-know or forgotten works, such as those of the Brest born composer Jean Cras, and the works of Charles-Valentin Alkan. The Trio will soon be recording César Franck's complete piano trios for the Naxos label.
The Brancusi Trio understands the importance of reaching out to young audiences and proposes a number of original concert presentations and teaching workshops for the young.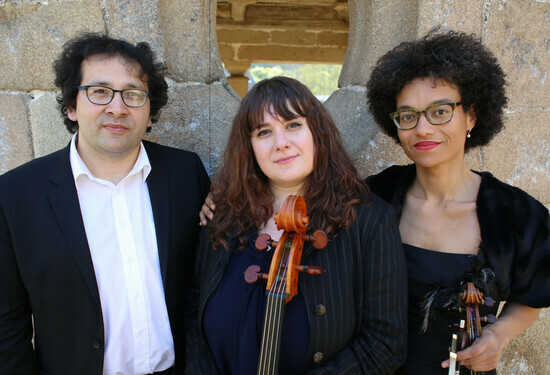 Photo Satirino
Ann-Estelle Médouze
Ann-Estelle Médouze started violin at Suzuki school in Lyon before becoming a student of Tibor Varga at the age of eleven. From 1996 to 2001, after obtaining her chamber music diploma at the Lyon conservatory, she studied in New York with Pinchas Zukerman and Patinka Kopec at the Manhattan School of Music. From 2002 to 2004 she pursued her violin studies at the Paris conservatory with Jean-Jacques Kantorow as well as chamber music with Jean Sulem in the Quatuor Alma. Laureat of the Radio France National Competition at the age of thirteen, of the Manhattan school of Music Concerto Competition, of the Vaclav Huml International Competition in Zagreb, she also won the Serge Den Arend prize for the best Mozart performance in 2002 at the Long-Thibaud Competition in Paris.
In the United-States, Ann-Estelle Médouze has played on many occasions with Pinchas Zukerman and Itzhak Perlman, in particular in the Santa Fe Chamber Music Festival and the Perlman Music Program. In 2015, Pinchas Zukerman invited her to Ottawa to play Bach's Double Concerto with him and octets with Itzhak Perlman. In France, she has performed at the Cité de la musique, Théatre Mogador, the Radio France Auditorium Olivier Messiaen, Radio France Montpellier Festival, Lyon Chamber Music Society… As a chamber musician she has performed with Claude Frank, Roland Pidoux, Alain Meunier, Michel Strauss, Vladimir Mendelssohn, Ralph Kirshbaum, Bruno Pasquier, Itamar Golan… As a soloist, she has played under the direction of David Gilbert at Carnegie Hall, Pinchas Zukerman, Zdenek Macal, Pierre-Dominique Ponnelle, Menahem Nebenhaus, Pablo Castellano, Philippe Bender, Emil Tabakov, Takuo Yusa, with orchestras including the Baltimore Symphony Orchestra, Civic Orchestra of Chicago, Manhattan School Symphony Orchestra, National Art Center Orchestra of Ottawa, National Orchestra of Venezuela, Israel Sinfonietta Beer-Sheva, Orchestre National de Lyon, the Orchestre National d'Ile de France…
She is regularly invited as concertmaster in numerous orchestras including the Orchestre de Chambre de Paris, The National Art Center Orchestra of Ottawa, the Royal Philharmonic Orchestra of London as well as the Rotterdam Philharmonic. She has been concertmaster of the Orchestre National d'Île de France since 2004.
Laura Buruiana
Laura Buruiana came to international attention in 2003 when she won 1st prize in the Young Concert Artists awards in New York and 1st Prize in the Arturo Bonucci Competition in Rome.
Born in Bucharest in 1980, Laura started playing the cello at the age of ten and studied at the George Enescu musical Lycée in Bucharest before attending the Romanian National Music University in Bucharest from 1999 to 2004. She went on to the Cologne Hochschule für Musik where she studied with Frans Helmerson, obtaining her Masters degree in 2007. Throughout her studies she took part in numerous master classes in Germany, Spain, France, Holland and Romania. In 2012 she was awarded a doctorate in music by the National Music University in Bucharest. Laura Buruiana also plays the Baroque cello and the viola da gamba.

As a soloist, Laura gave her début performance in the Berlin Philharmonic Hall playing Shostakovich's 1st concerto with the Berliner Symphoniker directed by James Gaffigan. She has performed as a soloist with the Bari Symphony Orchestra, Berlin Chamber Orchestra, in the Rheingau Festival, the George Enesco Philharmonic in Bucharest, Romanian Radio Orchestra, Shangai Philharmonic, Santander Orchestra, the Ohio Symphony Orchestra, North Carolina Symphony Orchestra… playing concertos by Shostakovich, Dvorak, Vieru, C. P. E. Bach and Saint-Saens, as well as Tchaikovski's Rococo Variations, under the direction of Oliver von Dohnányi, Gerhard Zimmermann, Cristian Mandeal, Horia Andreescu, Lorenzo Muti and Dorel Pascu, among others.

In 2005 she made her debut at the Enescu Festival in Bucharest, taking over the cello solo part at very short notice in Paul Constantinescu's Triple Concerto, and was invited back to give a recital in the 2007 festival. She has also played in the Spoleto Festival in 2002, 2003 and 2005, the Rheingau Festival in 2006, "Mostly Tchaikovski" in Pella, USA, 2004, the Usedom Festival in Germany in 2002 and 2003, and the Young Euro Classic Festival in Berlin in 2004. In the USA she has been invited to perform at the Kennedy Center in Washington, Kaufmann Hall in New York, Gardner Museum in Boston, as well as in Pittsburgh, Virginia, Connecticut and Ohio. In Europe she has played at the Amsterdam Concertgebouw and the Diligentia Theatre in The Hague as part of the "Holland Music Sessions", the Berlin Konzerthaus, Saarbrucken festival, the Glyptotek in Copenhagen, at the Château de Fontainebleau, Flagey in Brussels, Hanover during Expo 2000, in Rome, Milan and Venice, at the "Rencontres Franco-Roumaines" in France, the Santander and Toroella de Montgri festivals in Spain, and the Bruno Walter Society in Luxemburg.

Laura Buruiana's recording of Enescu's sonatas for cello and piano for the Naxos label in 2008 received "5 Diapasons" in the French music magazine. Her recording of Brahms's cello sonatas with the pianist Matei Varga for Coviello Classics was elected CD of the year in 2012 by "The Violoncello Foundation" in New York. In 2013 two more albums were released - Mendelssohn's complete cello sonatas with the pianist Ferenc Vizi, also for Coviello Classics, and elected of CD of the year in 2013 by Radio Romania Muzical, and "Enescu & Bartok" for the label Ollecello Classics.
Two new recordings are to be released in 2015 - Bach's cello suites in two different versions, one on modern cello, the other in Baroque violoncello piccolo, again for Coviello Classics, and an album of sonatas for cello and piano by Enesco, Shostakovich and Prokofiev with the pianist Alexandra Silocea for Avie Records.
Ferenc Vizi
Born in Transylvania (Romania) in 1974, Ferenc Vizi started the piano at the age of nine with András Körtési in his native town of Reghin. Gérard Frémy, a member of the jury of the George Enescu competition, in which Ferenc Vizi won a special prize, encouraged him to come and study with him at the Paris Conservatoire, which he was able to do in 1992, thanks to a French government grant and the Yvonne Lefébure Foundation, and where he also studied with Cyril Huvé. In 1998, after graduating with a unanimous first prize at the Conservatoire, he entered the postgraduate performers' course there with Jacques Rouvier, and from 2000 to 2002 went on to study with Françoise Thinat at the Paris Ecole Normale.
Ferenc Vizi has carried off a number of prestigious international prizes: the Saratov competition in Russia, the Hamamatsu competition in Japan, the Arthur Rubinstein competition in Tel-Aviv, and the Munich ARD competition, thanks to which he was invited to perform in South America, Japan and several European countries, and to record Bartók's 2nd piano concerto with the Bayerischen Rundfunk directed by Peter Rundel for the Munich radio.
He has since performed as a recital soloist and with orchestras principally in Europe. As a chamber musician Ferenc Vizi has also performed with Henri Demarquette, Raphaël Perraud, Jean-Marc Phillips-Varjabedian, Alexis Cardenas Benoît Fromanger and Richard Galliano. In 2014 he joined the Brancusi Trio with the violinist Ann-Estelle Médouze and the cellist Laura Buruiana
Juventus Lauréat in 1995, Ferenc Vizi is regularly invited to the Théâtre de la Ville in Paris. He has also performed at Radio France, the Grand Théâtre de Bordeaux, Théâtre de Caen, Festival de l'Épau, Piano à Riom, Piano à Auxerre, Serres d'Auteuil, Piano Passion de Saint-Etienne, Musée d'Orsay and the Opéra comique in Paris, and in the Festivals of Nohant, Toulon, Périgord Noir, 1001 Notes, the Nantes Folle Journée, Festival de la Roque d'Anthéron, La Chaise Dieu, Piano(s) festival Lille, Festival d'Eté de Toulouse, the London It's all about piano festival, and numerous theatres throughout France. He has performed with the Orchestre National de Lille, Orchestre National d'Île de France, Orchestre d'Auvergne and performed both Tchaikovsky's 1st piano concerto and Grieg's piano concerto with the Târgu-Mures Philharmonic Orchestra from his native Romania on tour in France at the Pin Galant in Mérignac, Palais Neptune in Toulon, Cratère in Alès and at La Rampe in Échirolles. During the summer of 2016 he gave his first performance of Boulez's 12 Notations at the Juventus Festival and gave several recitals of his Blue Notes programme. Following his remarkable Diabelli Variations performance at the Théâtre de la Ville in Paris in November 2015, he has been re-invited by the Théâtre to play his Chimères & Contemplations recital programme in January 2017.
Ferenc Vizi has created a programme with the Ensemble Cifra that brings together Liszt's Rhapsodies with traditional Hungarian gypsy music and was first performed at the Scène nationale de Martigues and the Lisztomanias Festival in Châteauroux. Rhapsodies – Liszt and the Hungarian Gypsies has since toured extensibly throughout France, most recently at the Théâtre Impérial in Compiègne, and will be performed at the Nancy and Montpellier operas during the 2016-2017 season.
Ferenc Vizi has recorded Beethoven's opus 111 Sonata and Schumann's Fantasia opus 17 for the Æon label, and Voyage - works by Schubert, Liszt, and Wagner / Liszt - for Satirino records. In 2013 Rhapsodies - Liszt and the Hungarian Gypsies was released by Satirino records under the title Czardas Fantasy, Mendelssohn's complete works for cello and piano with the cellist Laura Buruiana by Coviello Classics, as well as an album of works for violin and piano by Ernest Bloch with the violinist Elsa Grether on the Fuga Libera label. Ferenc's recording on Beethoven's Diabelli Variations on the Anima label was released in November 2014, followed by Romance oubliée with the cellist Hermine Horiot on the 1001 Notes label in early 2015.
Press reviews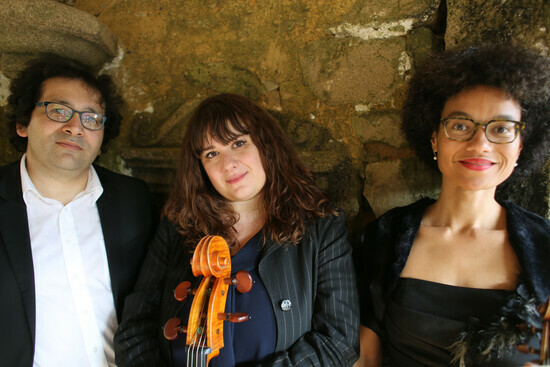 Photo Satirino
"...The players of the excellent Brancusi Trio treat the score as highly charged Brahms, with the piano driving the outer movements forward as if the work`s origins were symphonic. The A minor Trio comes from much later in Enescu's life and here the Brancusi Trio`s performance succinctly captures the esoteric qualities of the composer's later works, with wide mood swings flowing so easily that they do not disrupt the overall shape of each movement... This is a very well recorded and highly desirable disc, completed by the innocent charm of the little Serenade lointaine."
David Denton, The Strad, July 2012
"Paris-formed Trio Brancusi continue to champion Enescu - Heartly Recommended"
Guy Richards, Gramophone, August 2012
"...Les Brancusi soulignent surtout une écriture harmonique pénétrée par la musique populaire roumaine, attestant le virage stylistique que le langage du compositeur.... On y admire sans réserve le jeu décanté et foudroyant des Brancusi, et on les remercie pour cet album..."
Jean-Charles Hoffelé, Diapason, mai 2012
"Une nouvelle parution consacrée à Georges Enesco, gloire nationale en Roumanie seulement, est du pain béni pour tout auditeur avide de découvertes ou simplement désireux de compléter ses connaissances d'un des personnages importants de la musique du vingtième siècle. Même sans parler du plaisir d'entendre des versions alternatives des rarissimes raretés du catalogue enregistré, la mise à jour d'inédits accentue encore notre soif insatiable… Les trois jeunes interprètes du Trio Brancusi ont le grand mérite de plier leur jeu à ces évolutions d'écriture et de coloris, autrement dit de jouer les œuvres comme leur style l'impose et de ne pas chercher à moderniser le plus ancien ou à « roumaniser » ce qui n'a pas lieu de l'être. A défaut de comparaisons majeures et multiples et d'enregistrements de référence, on y perçoit un bon équilibre des voix et une justesse de ton qui en font un très bon témoignage pour des « premières mains » discographiques".
Nicolas Mesnier-Nature, ResMusica, avril 2012
"...the young advocates of the Brancusi Trio play with skill and commitment. The G-Minor Trio surges with romantic passion (I'd love to hear this group in the Schumann trios), while the more understated and formally ambiguous A-Minor is played with a superb sense of tact, both with respect to color and with respect to the music's idiosyncratic ebb and flow. Balances are exemplary, as is the give-and-take among the players, even in the most arcane passages of the A-Minor, where each player seems to wander off into his or her own world. The gentle Sérénade lointaine makes an effective interlude—but it's the two larger works that flank it that really deserve your attention. Strongly recommended".
Peter J. Rabinowitz, Fanfare Magazine, 2012
Repertoire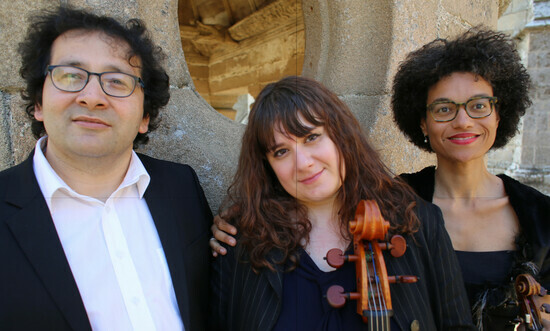 Photo Satirino
Beethoven - Trios n°4 & 5
Christophe Bertrand - Treis (2000)
Brahms - Trios n°1 & 2
Cras - Trio
Debussy - Trio
Enescu - Trios & Sérénade lointaine
Fauré - Trio
Franck - Trios n°1, 2, 3 et 4
Haydn - Trios n°20, 21 & 22
Philippe Hersant - Trio - Variations sur la Sonnerie de Sainte-Geneviève-du-Mont de Marin Marais (1998)
Rachmaninov - Trios Elégiaques n°1 & 2
Ravel - Trio
Nikolaï Roslavets 1881-1944 - 3 trios
Shostakovich - Trios n°1 & 2
Schubert - Trios n°1 & 2 & Nocturne (D 897)
Schumann - Trio n°1
Tchaikovski - Trio
Widor - Trio n° 1
Some programme ideas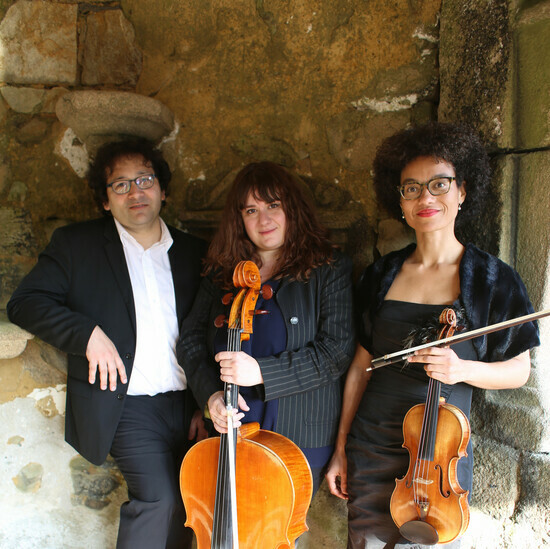 Photo Satirino
Péchés de jeunesse
Charles-Marie Widor - Trio n° 1 (1875 at the age of 31)
Claude Debussy - Trio  (1880 at the age of 18)
César Franck - Trio n° 1 (1840 at the age of 18)
Enescu - Trio n°2
Hersant - Trio
Bertrand - Treis
Ravel - Trio
Enescu - Trio n°1
Franck - Trio n°1
Brahms - Trio n°2
Enescu - Trio n°1
Franck - Trio n°1
Enescu - Sérénade lointaine
Franck - Trio n°4
Enescu - Sérénade lointaine
Debussy - Sonata for violin & piano
Ravel - Trio
Debussy - Sonata for cello & piano
Enescu - Trio n°1
César Franck's four Trios Concertantes
George Enescu - the complete piano trios
The 2 Trios & the Sérénade lointaine
Haydn - Trio n°20
Beethoven - Trio n°4
Schubert - Nocturne (D 897)
Schumann - Trio n°1
Rachmaninov - Trio Elégiaque n°1
Shostakovich - Trio n°2
Tchaikovski - Trio
Beethoven - Trio n°5
Schumann - Trio n°1
Schubert - Trio n°2
The works of Jean Cras:
Works for solo piano, violin & piano, the cello sonata, the piano trio
Works of Charles-Valentin Alkan:
Grand duo concertant in F sharp minor for violin & piano op. 21
Grande sonate, op. 33 "Les quatre âges de la vie"
Sonate de concert in E major for cello & piano op. 47
Trio in G minor for violin, cello & piano op. 30
Shostakovich - Symphony N°15 arranged for piano, violin, cello & 3 percussionists (transcription by Derevianko for piano, violin, cello & 13 percussion instruments)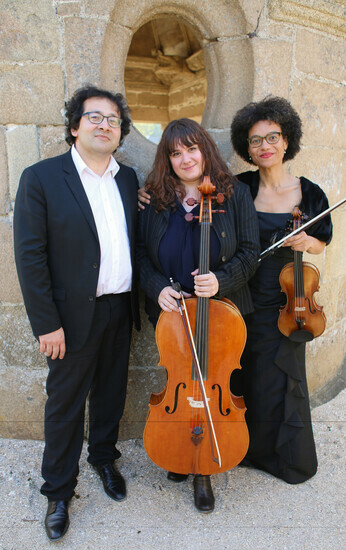 Photo Satirino
Photos taken at the Fête du Violon, Saint-Jean-du-Doigt, Brittany, 15th May 2016