↑
Artists · Soloists · Dominique Visse · countertenor
For opera engagements please contact
Mr Réda SIDI-BOUMEDINE at RSB Artists
La Falconnière, A2, F-69340 Francheville, FRANCE
Tel : +33 6 747 617 97 | Fax : +33 4 861 724 30 | http://www.rsbartists.com
Dominique Visse began his singing career at the age of 11 as a chorister in the Cathedral of Notre Dame in Paris. At the same time he began studying the organ and flute at the Versailles Conservatory. Already passionate about Renaissance and Mediaeval music, in 1976 he met the grand pioneer of the countertenor voice, Alfred Deller, and became his pupil. He also worked with Nigel Rogers, René Jacobs and William Christie.

In 1978 Dominique Visse founded the Ensemble Clément Janequin with whom he has made a series of benchmark recordings of French polyphonic chansons of the 16th Century. The following year he became one of the founding members of Les Arts Florissants and edited much of the ensemble's repertoire in its early years. Since that time Dominique Visse has become one of the most popular lyric artists in the world of Baroque opera, working with René Jacobs, Jean-Claude Malgoire, Philippe Herreweghe, Ton Koopman, William Christie, Alan Curtis, Nicholas McGegan, Christophe Rousset, Ivor Bolton, Robert King, Harry Bicket and Emmanuelle Haïm in the opera houses of Paris, Berlin, Cologne, Amsterdam, Lausanne, Tel-Aviv, Montpellier, Houston, Barcelona, Munich, Versailles, at the Monnaie in Brussels, at the Théâtre du Châtelet and the Théâtre des Champs Elysées in Paris, The Royal Opera House in London, on tour in Japan and North America, and at the Festivals of Glyndebourne, Aix en Provence, Innsbruck and Edinburgh. His most memorable appearances include productions of Cavalli's Calisto, Handel's Giulio Cesare and Agrippina, and Monteverdi's L'incoronazione di Poppea.

Dominique Visse does not limit himself to Baroque and early repertoire. He has sung in Offenbach's Les Brigands, directed by Jérôme Deschamps and has recorded the role of La Marquise in Poulenc's Gendarme incompris for Decca directed by Charles Dutoit. He sang the role of Oreste in Offenbach's La Belle Hélène staged by Herbert Wernicke at the Festival of Aix en Provence and revived in Salzburg. He also frequently performs contemporary music and has participated in Luciano Berio's opera Outis at La Scala in Milan and at the Théâtre du Châtelet in Paris, Perela, l'Homme de Fumée by Pascal Dusapin at the Opéra de Paris, La Frontière by Philippe Manoury at the Bouffes du Nord in Paris, and Kagel's Mare Nostrum with Jean-Claude Malgoire and in a production with the Péniche Opera.

His forthcoming opera productions include Charpentier's David & Jonathas at the Festival d'Aix en Provence with William Christie and Les Arts Florissants, with revivals in the Paris Opéra comique, the Théâtre de Caen and the Brooklyn Academy of Music, Bontempi's Il Paride with Christina Pluhar in the Innsbruck Festival, L'Anfiparnaso / Gianni Schicchi with Jean-Claude Malgloire at the Atelier lyrique de Tourcoing and on tour in France, La Dispute, a new work by Benoît Mernier at La Monnaie in Brussels, and a revival of Giulio Cesare at the Paris Opera with Emmanuelle Haïm.

As well as his work in opera, Dominique Visse continues to perform and record with his Ensemble Clément Janequin that celebrated its 30th birthday in 2008 and whose extensive harmonia mundi discography has won numerous prizes. He also gives recitals with lute, or piano & accordion, of music ranging from Machaut to Berio via Dowland, Schubert, Offenbach, Massenet, Satie, Poulenc and Takemitsu. He has made more than fifty recordings, principally for harmonia mundi, most recently the Ensemble Clément Janequin's L'Écrit du Cri with music from the Renaissance to the present day. His recording Parole e querele d'amore with Agnès Mellon was recently released on the Zig-Zag label. In 2012 his recent Dowland recital recording with the celebrated English viol consort, Fretwork, and the French lutenist Eric Bellocq, will be release by Satirino records.
Recital programmes 
Musick for a while
Dominique Visse, countertenor and electric bass 
Bruno Helstroffer, electric theorbo 
Jean-Louis Matinier, accordion
Guillaume de Machaut - v.1300-1377
Dame ne regarde pas
Giovanni Felipe Sances - 1600-1679
Usurpator tiranno
Bruno Helstroffer
Clan Theorbo
John Dowland - 1563-1626
Fine knacks for ladies
From silent night
Jean Sébastien Bach / Jean-Louis Matinier
Invention 4
Giovanni Felipe Sances - 1600-1679
Acenti queruli
Barbara Strozzi - 1583-1643
L'Eraclito amoroso
Jean-Louis Matinier
Wiosna
Henry Purcell - 1659-1695
Fairest Isle
Musick for a while
Jean-Louis Matinier
Amischa
Tarquinio Merula - v.1595-1665
Canzonetta spirituale alla nanna
(Canzoni, Venise, 1638)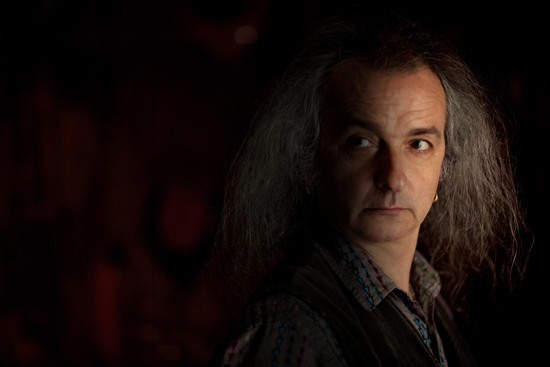 photo Arthur Forjonel
Un satyre cornu
Dominique Visse, countertenor 
Eric Bellocq, lute
John Dowland (?1563 - 1626)
Now, O now, I needs must part
Anonyme (M.S. Scheele 1619)
Praeludium
John Dowland
Go crystal tears
Anonyme (M.S. Board)
Fayre mysters disdaine me not
John Dowland
Away these self-loving lads
Anonyme (M.S. Board)
The gillyflower
Anonyme (M.S. Turpin)
This merry pleasant spring
The eglantine branch
John Dowland (?1563 - 1626)
I saw my lady weep
Flow my tears
Fine Knacks for ladies
Adrian Leroy (c1520 - 1598)
J'ay du mal tant, tant (Pavane et Gagliarde)
Une m'avait promis
Au jour, au jour
Albert de Rippe (c1500 - 1551)
Première fantaisie pour guitare
Adrian Leroy
Je ne veux plus à mon mal consentir
A mes peines et enniuz
-- interval --
Giulio Caccini (c1545 - 1618)
Tutto'l di piango
Amarilli mia bella
Lasso che pur da l'uno e l'altro sole
Johann Hieronymus Kapsberger (c1580 - 1651)
Toccata 7
Giulio Caccini
Piange madonna
Pierre Guédron (c1573 - c1619)
Un jour l'amoureuse Sylvie
Anonyme
Ma belle si ton âme
Alessandro Piccinini (1566 - c1638)
Corrente sopra l'alemana
Antoine Boësset (1586 - 1643)
Ils s'en vont ces roys de ma vie
Gabriel Bataille (c1575 - 1630)
Un satyre cornu
Robert Ballard (c1575 - 1650)
1ère entrée de luth
François Richard (?)
Ruisseau qui court apres toy même
Etienne Moulinié (c1600 - 1669)
Amis enivrons nous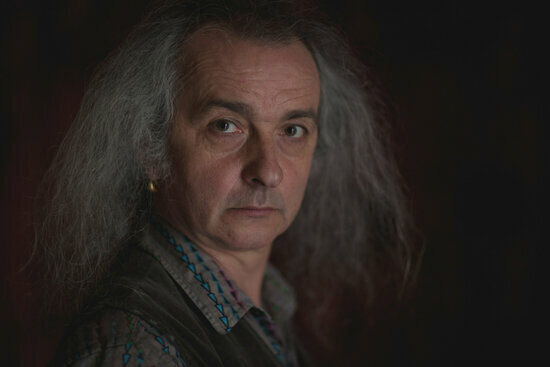 Photo Arthur Forjonel