↑

  is a chamber orchestra formed in 1999 by Barry Douglas, one of the world's foremost pianists since winning the Gold Medal at the 1986 Tchaikovsky International Piano competition in Moscow.

The orchestra's inaugural concerts were given at the Stormont Parliament Buildings in Belfast and the State Apartments in Dublin, bringing together fine Irish musicians from both the North and the South, players holding top positions in some of the major British and European orchestras with exceptional young Irish musicians, to celebrate, in Barry Douglas's own words, 'the wealth of Irish musical talent'.

The world-wide reputation of Barry Douglas has been an immense stimulus for interest in Camerata Ireland which has made three extensive tours of the USA and has also performed in South America, Italy, Germany, Poland, China and in France where the orchestra and Barry Douglas performed a Mozart Piano Concerto cycle at the Théâtre des Champs Elysées. Their yearly international series also takes them to the Cadogan Hall in London, the National Concert Hall, Dublin, the Amsterdam Concertgebouw and the National Auditorium in Madrid. In March 2018 they performed for the first time in the Royal Opera of the Château de Versailles. Camerata Ireland and Barry Douglas have a very strong presence in France where they have performed at the Théâtre de Caen, in the Scènes nationales of La Rochelle, Alès and Narbonne, at the Grand Théâtre de Provence in Aix-enb-Provence, and in the Festivals in Colmar, St Riquier, La Chaise-Dieu, Berlioz, at the Nuits Musicales d'Uzès, Musicales du Luberon and Musique en Côte Basque in Bayonne.

Barry Douglas and Camerata Ireland organise the Clandeboye Festival outside Belfast every August. Clandeboye has become the major summer musical event in Northern Ireland. The festival is centred around workshops and masterclasses for young musicians, many of whom go on to perform with Camerata Ireland, and are led by Barry Douglas and other international artists. Support for young musicians is central to Camerata Ireland's ethos.

Barry Douglas and Camerata Ireland have recorded a Beethoven Piano Concerto cycle for Satirino Records. The complete box set was released in early 2008.

Camerata Ireland is one of only two organisations to have been honoured with the joint Patronage of Michael D. Higgins, President of Ireland and Her Majesty The Queen. Camerata Ireland is deeply grateful for the support of its Global Sponsor Randox laboratories, and is also supported by Culture Ireland, the Northern Ireland Arts Council and the Arts Council of Ireland. 





For further, detailed information about Camerata Ireland and its work, please visit their website, www.camerata-ireland.com
"..the Prokofiev's second piano concerto was sheer dazzle. Barry Douglas's frenetic but assured performance was almost dizzying to watch."
www.musicweb-international.com by John-Pierre Joyce (BBC Symphony Orchestra, April 2009)
Barry Douglas

Barry Douglas has established a major international career since winning the Gold Medal at the 1986 Tchaikovsky International Piano Competition, Moscow. As Artistic Director of Camerata Ireland and the Clandeboye Festival, he continues to celebrate his Irish heritage whilst also maintaining a busy international touring schedule.
Barry has recently embarked on a monumental recording project with Chandos Records – to record the complete works for solo piano of Brahms and Schubert within five years. Having developed a wealth of musical experience in his 35 year career, Barry now feels the time is right to undertake this colossal project. The first disc of works by Brahms was released to critical acclaim in March 2012. The interesting programming of each disc, which has already garnered much critical praise, presents each album as a stand-alone recital, providing a varied and engaging listening experience. Future plans include a play/direct project in which Barry will record both Brahms Piano Concerti with the BBC Symphony Orchestra.
Camerata Ireland was founded by Barry in 1999 to celebrate and nurture the cream of young Irish talent. The ensemble is made up of musicians from both Northern and the Republic of Ireland and has acquired a reputation for excellence. Camerata Ireland tours regularly throughout Europe, North and South America, and China. In addition to its busy schedule of concerts, the orchestra will perform a new cantata commissioned by The Honourable The Irish Society, "At Sixes and Sevens", alongside the London Symphony Orchestra to celebrate Derry-Londonderry becoming City of Culture 2013.
Highlights of the coming seasons include returns to the London Symphony Orchestra, Royal Liverpool Philharmonic, St Petersburg Philharmonic, Orquestra del SODRE Montevideo, and Buenos Aires Philharmonic Orchestra, and a US tour with the Russian National Orchestra. He has previously given concerts with the London Symphony, City of Birmingham Symphony, Cincinnati Symphony, Singapore Symphony, Duisburg Philharmonic, Seattle Symphony, Hallé, Berlin Radio Symphony, Melbourne Symphony, Czech National Symphony, Atlanta Symphony, Brussels Philharmonic, Shanghai Symphony, Baltimore Symphony, Hong Kong Philharmonic, Houston Symphony, and Helsinki Philharmonic orchestras, among others. Barry regularly plays in recital throughout the world, with upcoming performances in France, including Lyon, Russia, including St Petersburg, the UK, including the BBC Wigmore Series and the City of London Festival, Italy, and the US.
Barry's reputation as a play/conductor has grown since forming Camerata Ireland, this season seeing him return to direct the Vancouver Symphony Orchestra. In recent seasons, he has made successful debuts with the RTÉ National Symphony Orchestra, St Petersburg Symphony Orchestra, Academy of St Martin-in-the-Fields, Indianapolis Symphony, Vancouver Symphony, Chamber Orchestra of the Romanian National Radio Orchestra at the Enescu Festival, Bangkok Symphony, I Pommerigi di Milano and Moscow Philharmonic orchestras.
Barry Douglas received the Order of the British Empire (OBE) in the 2002 New Year's Honours List for services to music.
Barry Douglas appears by arrangement with IMG Artists and is represented in France by Véronique Jourdain Artists Management. 
Press reviews
"Barry Douglas conducts with a communicative urgency that jolts the most concert-weary warhorses back to life" Joe Banno, Washington Post

"With the A Major Piano Concerto KV 414, Douglas shows himself as a brilliant Mozart interpreter. He was accompanied by Camerata Ireland with a dazzling style which easily invoked the spirit of the Salzburg idol" Ulrich Moller-Amsberg, Suddeutsche Zeitung

"Tchaikovsky's Serenade is meant to plunge listeners into a rich, encompassing aural world. That is precisely what happened in this sumptuous performance, showing off the orchestra's appealing, full-bodied string sound." Kyle MacMillan, Denver Post

"Douglas is the dreamer.... [he] sounds if he's slept with the score and woken up loving it. There's a simple, expressive logic about his playing (as well as the occasional expressive desynchronisation of the hands)."
Rob Cowan, Gramophone

"Whether your are ready to update your Beethoven piano concertos or just starting out, this new recording is a must."
Laurence Vittes, Audiophile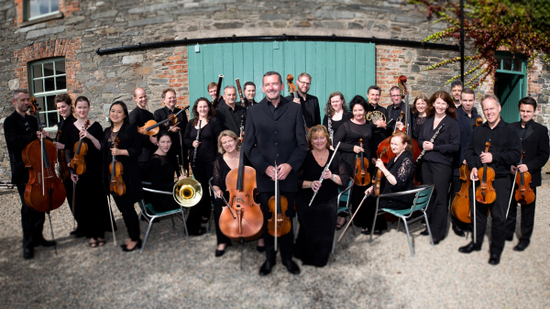 Programmes
In 2019 Camerata Ireland celebrates its 20th anniversary. Inspired by the Good Friday peace agreement in April 1998, Barry Douglas created Camerata Ireland to bring together musicians from the North and the South in the wake of this great impetus of hope and fraternity.
With the approach of Brexit, which threatens this great step forward, Camerata Ireland's concerts are all the more vital and indispensable.
To celebrate this anniversary, Barry Douglas proposes for the summer of 2019 and the 2019-2020 season, a number of Mozart concerto and symphony programmes, as well as works by Beethoven to mark the 250th anniversary of his birth in 2020:
Beethoven - Coriolan Overture, Op. 62
Beethoven - Concerto No 4 in G major, Op. 58
--
Mozart - Symphony No 41 "Jupiter", Op. 5
Mozart - Concerto No 21 in C major, K. 467
Mozart - Sinfonia concertante in E flat major, K.364 (Mairéad Hickey, violin, Ed Creedon, viola)
--
Beethoven - Symphony No 7 in A major, Op. 92
Some works in these programmes can be interchanged.
Also available and interchangeable in the above programmes:
Mozart - Concerto No 1 in C major, Op. 15
Beethoven - Symphony No 2 in D major, Op. 36
Camerata Ireland performs Beethoven's complete piano concerto cycle at the Château de Versailles in March 2020, also available in the 2019-2020 season.
Over the coming seasons Barry Douglas is also proposing a cycle of Mozart's late piano concertos with Camerata Ireland, those composed from 1784 on. The first of the four programmes below was performed in March 2018 at the Théâtre Le Cratère in Alès and the Opéra Royal du Château de Versailles :
Concerto No 23 in A major, K. 488 (2nd March 1786)
Concerto No. 20 in D minor, K. 466 (10th February 1785)
--
Concerto No. 25 in C major, K. 503 (4th December 1786)
​Concerto No. 14 in E flat major, K.449 (9th February 1784)
​Concerto No. 24 in C minor, K.491 (24th March 1786)
--​
​Concerto No. 22 in E flat major, K.482 (16th December 1785)
​Concerto No. 15 in B flat major, K.450 (15th March 1784)
​Concerto No. 19 in F major, K.459 (11th December 1784)
--​
​Concerto No. 27 in B flat major, K.595 (5th January 1791)
​Concerto No. 16 in D major, K.451 (22nd March 1784)
​Concerto No. 21 in C major, K.467 (9th March 1785)
--​
​Concerto No. 26 in D major, K.537 (24th February 1788)