↑
Satirino records · Schubert - Piano Sonata D 664, Impromptus D 935
Franz Schubert 1797 – 1828
Piano Sonata in A major D 664, Op. posth. 120
Four Impromptus for piano D 935, Op. posth. 142
Ferenc Vizi   piano

In collaboration with Satirino
Paraty 101109 - released on 26th November 2021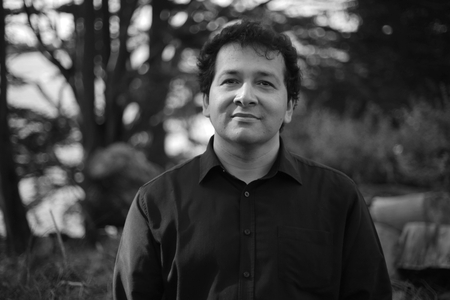 Photo © Arthur Forjonel
Directeur du label / Producer
Bruno Procopio
Prise de son et mastering / Sound and master editing
Cécile Lenoir
Direction artistique / Artistic Direction
Cécile Lenoir
Création graphique / Graphic design
Antoine Vivier
Traduction / Translation
Ian Malkin
Photographe / Photography
Arthur Forjonel
Enregistrement / Recording
Salle Colonne, Paris, 6 & 7/5/2020
Piano
Steinway D (Régie pianos)
Accord / Tuning
Michaël Bargues
Paraty Productions
contact@paraty.fr www.paraty.fr
This recording is dedicated to Nelly and Noël Lacoudre to whom I am infinitely grateful.
Thanks to / Remerciements
To all the contributors to KissKissBankBank thanks to whom I have been able to publish this recording, in particular : Delphine and François Huber and their friends, Agnès Neboit and her students, Michel Mollard, Miranda Khabiri, Odile Couvert, Benoit Choquet and the Préludia association, Georges Gara, as well two of my teachers to whom I owe so much : Cyril Huvé and Françoise Thinat.

GRAND SCHUBERT
"La petite la majeur ? Ferenc Vizi ne l'entend pas ainsi, qui dès le premier thème renonce à toute joliesse, phrase en liedersänger, ombre avec cette main gauche diseuse que tant de pianistes négligent chez Schubert, qui pourtant y contre-chante et contrepointe tout… malgré son incroyable maîtrise de chaque détail du texte, [son inquiétude] explosera dans les traits de la section centrale, joués comme par un orchestre.
"Et les Impromptus ? Une autre sonate, que Ferenc Vizi joue ample, construisant une arche qui réunit les quatre dans une logique foudroyante, qui transforme le second Impromptu, pris preste (Rudolf Firkušný faisait ainsi) en un petit scherzo… Merveilleux Andante où le pianiste fait chanter le thème de Rosamunde, avant un Finale aussi brillant que tendu : le rythme piaffe, le sang roumain du pianiste évoque tout un certain monde balkanique que Schubert avait perçu au travers de la musique hongroise… L'assombrissement des dernières pages, où le pianiste semble retenir et son souffle et ses doigts, est prodigieux."
3 MAI 2022, JEAN-CHARLES HOFFELÉ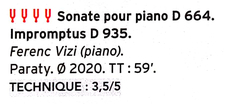 'Il y a de la modestie dans les notes d'intention de Ferenc Vizi, comme il y en a dans son choix de programme… le pianiste d'origine roumaine jette son dévolu sur les pentes plus douces de la D 664, autre sommet - d'affabilité, de rondeur, de tendresse cette fois… L'interprétation, sans écueil, rend justice à ce qui s'apparente à une conversation entre amis que jamais ne dénature une virtuosité hors de propos… C'est d'autant plus beau que Vizi, sobre, naturel, y refuse tout pathos. Cette retenue signe également un Allegro à la quiétude idéale. Même les sforzandos y restent mesurés : le pianiste ne cherche pas à le transformer artificiellement en morceau de bravoure… la sérénité et l'allant du deuxième (Impromptu D 935) tout comme la nervosité du dernier, témoignent d'une grande justesse de ton et de conception.'
Bertrand Boissard, Diapason, mai 2022

First rate Schubert
'…in this recording one finds new, constructive and convincing ideas on every level, which make the Sonata D. 644 op. posth. 120 and the 4 Impromptus D. 935 op. posth. 142 something very special. The pianist Ferenc Vizi… plays a Schubert in which one can only marvel. Completely unaffected and with a superiorly relaxed touch, he leads us into a Schubert world that is quite apart… The narrative character is of the highest quality and especially benefits the impromptus. Here miniature worlds are created and stories told. No less convincing is Vizi's interpretation of the Piano Sonata D. 664, which gains much in depth, expressiveness and relief without the performer playing himself into the foreground. This is quite simply great skill!'
Rémy Franck, Pizzicato  4th December 2021
 
CLASSIQUENEWS CLIC to start 2022!
The stream and the abyss of Schubert
Ferenc VIZI reveals a dazzling, ardent Schubert
'From the outset of the first movement of the D 664 Opus posthume 120 sonata, Ferenc Vizi makes Schubert sing and dance with a totally natural fluidity which comes across as both nonchalant and severe, attentive and melancholic. The first 11 minutes enter a profoundly dreamlike world, totally apposite… The allegro a clear stream of water, cleansed of any connotations… its shining intensity flowing with an irresistible dance-like naivety.
'The natural expressivity of the 4 Impromptus D 935 is captivating … [N°3 Rosamunde Andante] radiates a carefree, idyllic dream, pouring forth its intoxicated words through the pianist's glowing lightness of articulation… the variations are played with a prodigious gift for characterisation, including the darker sides of the cycle… a staggering progression between shadow and light… Masterfully conceived by the performer.'
Lucas Irom, classiquenews.com  15th January 2022
 
France Musique 'En pistes !' 4th January, Best pick - Ferenc Vizi's homage to Schubert
'The pianist Ferenc Vizi has offered up an album devoted to Schubert, in all simplicity.'
19 January - Ferenc Vizi's Schubert album is broadcast for the second time on the France Musique 'En pistes !' programme.
'An album you have already heard on this programme and which we are particularly fond of, and when we like something we give it a second broadcast… An absolute jewel of poetry and finesse… This pianist fully understands Schubert's music… a deeply moving Schubert performance marked by simplicity and sensibility.'
If by reading this text you are hoping to find an erudite musicological introduction to Schubert, you are going to be disappointed. What should be expected from a foreword? Before I go on stage I usually joke that the most difficult part of a recital is not to disappoint those who aren't expecting to enjoy themselves. Trying to express the essence of Schubert in writing - or performance - can easily lead to one of two extremities: too much self-constraint so as not "to overdo it" - a mixture of modesty, awkwardness, even an unpardonable dryness; or to let oneself go and run the risk of banal sentimentality. I came to the realisation that the only thing that could come to my aid was sincerity. And I found some examples that are worth sharing here:
"I will never be calculating or mess around with the feelings of my heart. I give what is inside me as it is, that's all". (Schubert, letter to his brother Ferdinand, 29th October 1818)
Until I was 18 my piano repertoire consisted of a diet of works by Bach, Mozart and Beethoven, followed by Liszt, Schumann and Brahms. I had hardly ever heard or played any Schubert. This wasn't deliberate, it was just that in 1980s Romania, N. Ceausescu, the self-proclaimed "Genius of the Carpathians", and even "Danube of Thought", found it more and more difficult to tolerate anything except patriotic and folk music. Music schools and conservatories were closing and the only classical music available in my small Transylvanian town, Reghin, was Vivaldi, Mozart, Chopin, Liszt and… Richard Clayderman.
It was only later, during my first year at the Paris Conservatoire, that Gérard Frémy made me work on Schubert throughout the whole year. Despite all my efforts, the essence of Schubert eluded me, I felt I just did not have the right tools, that Schubert was not a kind of midway station between Mozart and Beethoven. I needed to find a voice that was conducive to this music, its way of evolving, breathing and speaking. Then one day I discovered the cello quintet played by the Amadeus Quartet, the last version dating from 1986: it was a revelation, and for months I literally lived with this recording. And also the 15th string quartet played by the Busch Quartet. From this time on I felt a kind of thawing in my perception, Schubert's music now chimed with inimaginable intensity, provoking an emotional state near to breakdown.
"No one can understand the pain of others, and no one can understand the joy of others. We believe we are getting close to others, but we can only ever be beside them. (…) My works are the fruit of my musical knowledge and my suffering." (Franz Schubert, diary, 27th March 1824)
Encountering Schubert is to venture into a relationship in which the listener has no time to reflect on aesthetic, musical or intellectual considerations, it is rather a sudden fleeting emotion like the palm of a silently extended hand clasped in passing.
Palm, soft rumpled bed
where sleeping stars
left lines
before they rose to the heavens.
(R. M. Rilke: Orchards - published 1926)
Schubert is none other than that most precious of friends, always ready to extend a hand, which is irresistible to seize wholeheartedly, and then proceed beyond time, earth and self, in total proximity and a universally recognisable Schubertian hue, that of confidence.
Do we listen enough, do we hear, apprehend the depth of so many inflections, modulations in his musical rhetoric?
The D. 664 sonata was written during the summer of 1819, the same period as the Trout Quintet and in the same key of A major, when Schubert was accompanied by the famous singer and devoted friend Vogl on a journey to upper Austria, Linz and then Steyr.
"In Steyr I had great fun and will continue to do so; the surrounding area is heavenly and Linz also is beautiful." (Schubert, letter of 19th August 1819)
There is no need to emphasise what the music clearly projects: if Schubert wanted to write a Spring Journey rather than his famous Winterreise, this music would fit perfectly. From the very first notes the music evokes an enchanted awakening in joyous natural surroundings, shining in the traveller's eye. In his book La musique de piano, Guy Sacre was spot on: "Do you believe he had to struggle in front of a blank page, like Jacob wrestling with the angel, to write this lyrical opening theme? We awake with him, like him embracing the promise and the fulfilment, the flower and the fruit."
The second movement flows in an intimate Schubertian serenity before the torrential last movement, the villagers, their dances, their famous yodeling. We hear the bells as the flocks pass, ringing like a childhood memory and that made me want to dress the returning theme in a veil of resonance, like a glittering powder of gilded nostalgia.
The four D. 935 Impromptus have a certain unity through their similar key relationships and the harmony of their structural frameworks.
The first, in F major, is the nearest to sonata form and is centred on a duetto d'amore harmonised in thirds in a dialogue of registers that merge with swirling, compulsive semiquaver accompaniment figures, encapsulating the impulses of the heart - passion, insistence, despair, begging, lost in an abyss of suffering.
"The poet is an abyss in which the suffering of the world crashes, burning and disintegrating as it falls, only its echo reaching the bottom in a veil of ash, and rebounding upwards almost as music."
(Ana Blandiana, contemporary Romanian poet, Fragmentarium)
The second Impromptu, in A flat major, combines the delicate simplicity of a menuet with the unexpected trembling fever of the central trio before returning to the initial theme.
The third Impromptu, in B flat major, is a set of variations based on one of the themes of his incidental music, Rosamunde, also used in the slow movement of his third string quartet in A minor D. 804, for which I have infinite admiration. One can spend hours reflecting on what is hidden behind this seemingly good-natured and smiling work and almost forget that this second set of Impromptus was written just after Winterreise in December 1827.
The fourth and final Impromptu, in F minor, opens with the snap of an energetic and indomitable scherzo, set off by a not purely decorative D flat-C acciaccatura, in which I can hear the same desperate, unexpected notes that end the cello quintet, sustaining the spark that strengthens throughout the work - despite a strongly contrasting central episode whose rolling lyricism recalls yet another beacon of the Schubert universe, that ever-faithful companion, the stream - until it burns itself out in a final conflagration sweeping over the keyboard into the abyss.
"As for us, are we not but shapes in this strange and gratuitous game, words in a language that no one speaks? Yet we are waiting for a pure melody; anterior to the flight of form. As if obscurity is running through the fabric of the shapes, the impulse of their stride, a breath never taken. And here we are already leaning against absence, hurried into the hollow of language, muted.
"Man is a miracle from which life on earth will perhaps never recover."
(Lorand Gaspar, Approche de la parole,1978)
Post Scriptum
In Immortality (1988), Milan Kundera's principal heroine:
"One day, she says to herself, when the assault of ugliness has become unbearable, she'll buy a sprig of forget-me-not, a thin stalk topped with a tiny flower, and she'll walk out onto the street holding it in front of her face, her eyes fixed on it so as to see nothing but the beautiful little blue dot."
I am lucky to know a few people who are comparable to Kundera's 'little blue dot'; I thought it would be interesting to ask them to write a few words on what Schubert inspires in them and I have taken the liberty of sharing their thoughts here, at the same time as expressing my deepest gratitude.
- § - 
The notes barely alight, like the foot marks in the wet sand of birds that flew off at dawn, but already we are listening to the tiny phrase, soon to disappear, inspired by a memory of inspiration, an inevitable invitation to ultimate and essential confidence. Schubert's music sketches the trajectory lost behind our wanderings that suddenly reveals our past in a devastating mirror image of our very beginnings: that of our fragile early feelings, of the birth of our passions and impulses. And we want to go on being frightened, frightened of losing the memory of the discovery of Beauty, submerged by the nostalgia for everything we had forgotten and that is humanly impossible to remember.
Ghislaine Gross
March 2020. As a general practitioner I joined the front line of the struggle to the exclusion of everything else. My piano could wait. After two months of being totally submerged, a short respite enabled me to take some time off. And what a pleasure it was to refresh myself with Schubert!
There is such incredible energy in this sonata. How could I have ever put it aside? While time stopped with the disease, travel forbidden and lockdown imposed, Schubert continued to flow. Not a gently flowing river, nor an impetuous triumphant waterfall, but rather just water winding its way round obstacles and through crevices, ever progressing. And what a consolation in the morbid climate of the pandemic, the uncertainty, the vulnerability! Life gropes on, but doesn't give up, never stagnates.
Delphine Hubert
A lot of people have tried to express what they feel when listening to Schubert and get nowhere. When I'm asked what I feel I immediately think of Gérard Depardieu, the piercingly sensitive monster in Bertrand Blier's film Trop Belle pour Toi. The model family at the dinner table, an Impromptu starts, as impromptu as a pork chop in a synagogue, the family imperturbable.
He refuses to hear it: "What's this music doing in the house?"
To his son: "Why on earth did you buy that?" (The music teacher asked him to write an essay)
"That's all very well, but this music is overwhelming me"
"What the hell was going on in Schubert's bonce that made him write such sad music?"
Everyone has a secret path to Schubert, a path of failures, moonlight and goose pimples, towards the light revealing the shape of a closed door ready to be opened. What is it in our heads that enables us to listen to it? Strings, perhaps, just waiting to vibrate, far off impulses begging to be awakened to reach out painfully to something ultimate and powerful.
It's this exquisite suffering Depardieu initially rejects before yielding to it, because he knows that life can be totally transformed by it, because it's the grief of impossible passion, the agony of keeping up appearances and the beauty of our human futility.
Jean-Pierre Gross
Franz Schubert 1797 – 1828
Piano Sonata in A major D 664, Op. posth. 120
1 - Allegro moderato - 11'00
2 - Andante - 4'30
3 - Allegro - 7'34

Four Impromptus, D 935, Op. posth. 142
4 - Impromptu No 1 in F minor Allegro moderato - 11'05
5 - Impromptu No 2 in A flat major Allegretto - 6'15
6 - Impromptu No 3 in B flat major "Rosamunde" Andante - 11'55
7 - Impromptu No 4 in F minor Allegro scherzando - 6'47
Total CD - 59'09