↑
Artists · Conductors · Kenneth Weiss · harpsichord & conductor
Released on 25th February 2022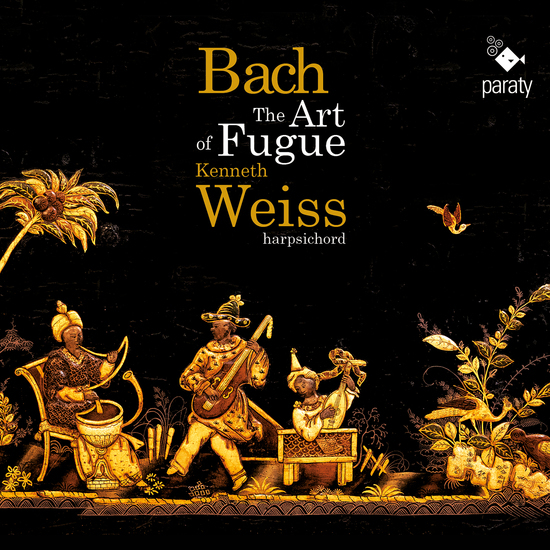 Kenneth Weiss was born in New York City where he attended the High School of Performing Arts. After studying with Lisa Goode Crawford at the Oberlin Conservatory he continued with Gustav Leonhardt at the Sweelinck Conservatorium in Amsterdam.
From 1990-1993 he was Musical Assistant to William Christie at Les Arts Florissants for numerous opera productions and recordings. He later conducted Les Arts Florissants in 'Doux Mensonges' by the choreographer Jiri Kylian at the Paris Opera, and was co-director with William Christie of the first three editions of Les Arts Florissants' 'Jardin de Voix' program.
Kenneth Weiss focuses on recitals, chamber music, teaching and conducting. His most recent recitals include Nuremburg, Montpellier, Barcelona, Dijon, Geneva, Antwerp, the Cite de la musique (Paris), Madrid, La Roque d'Anthéron, Santander, Lisbon, San Sebastian, Innsbruck, Santiago de Compostela, La Chaise-Dieu, La Chaud de Fonds, Bruges and New York. He performs in recital with the violinists Fabio Biondi, Daniel Hope, Monica Huggett and Lina Tur Bonet.
In collaboration with the choreographer Trisha Brown, Kenneth Weiss was musical director of 'M.O.', a ballet on Bach's Musical Offering, first performed at La Monnaie in Brussels. He was also musical director of the Aix-en-Provence European Music Academy's staged productions of Purcell's Dido and Aeneas and a Monteverdi madrigal program. Both productions were revived at the Lille, Monte-Carlo and Bordeaux operas. He has conducted staged performances of Mozart's Mariage of Figaro at the Cité de la musique in Paris and Monteverdi's L'incoronazione di Poppea in Bilbao and Oviedo. He has also conducted The English Concert, Concerto Copenhagen, Orquesta de Salamanca, Divino Sospiro, Orchestre de Rouen, the Orchestre régional de Basse-Normandie, Orchestre National des Pays de Loire, the Orchestre des Pays de Savoie and the Orchestre d'Auvergne.
In 2014 Kenneth Weiss performed the Well-Tempered Clavier at the Cité de la musique in Paris, in New York, at the Théâtre de Caen and the Festivals of La Roque d'Anthéron, Lanvellec and Villevieille. He also took part in the Centre de Musique Baroque de Versailles Rameau project, gave recitals in Madrid, Brussels, a Netherlands tour, and several recitals with Fabio Biondi in America, at the Théâtre des Champs-Élysées in Paris and in Spain. In 2015 he toured Japan with the Well-Tempered Clavier, gave a Bach birthday recital at the Théâtre de la Ville in Paris, performed at the Bridgehampton Chamber Music Festival, in Spain with the violinist Lina Tur Bonet and toured with the Chamber Music Society of Lincoln Center. In January 2016 Kenneth Weiss conducted the Israel Camerata in Tel Aviv and Jerusalem, followed by a Well-Tempered Clavier recital in Tel Aviv, before touring America with the violinist Lina Tur Bonet. He has also been invited by the cellist Marc Coppey to take part in the Musicales de Colmar Festival in May, plays in the Seine Festival at the château de Maisons-Laffitte and is again invited to take part in performances of Bach's Brandenburg Concertos with the Chamber Music Society of Lincoln Center in New York. In 2017 he gives recitals with the cellist Marc Coppey, the violinist Lina Tur Bonet and the mandolinist Avi Avital, and returns to conduct the Orchestre de l'Opéra de Rouen in a programme including the Brandenburg Concertos and the Art of the Fugue, and to the Chamber Music Society of Lincoln Center. In 2018 he gives a Scarlatti recital in the Radio France Montpellier Festival, and returns to Japan for a recital tour of his Bach A la françoise programme, to Rouen for Bach's Musical Offering, to Chamber Music Society of Lincoln Center and to conduct the Israel Camerata. Highlights of the 2019-20 season include the Brandenburg Concertos with the Orchestre de Rouen, Lincoln Center with the Chamber Music Society followed by a tour with the Berkshire Bach Society in December, followed by numerous cancellation due to the pandemic.
In 2001 Satirino records released the first in a series of highly acclaimed solo harpsichord recordings by Kenneth Weiss: Bach's Partitas, Scarlatti Sonatas, Rameau Opera and Ballet transcriptions (on two of the historical instruments in the Musée de la musique in Paris), an album including Bach's Italian Concerto, French Overture and the Chromatic Fantasy and Fugue, Scarlatti's  'Essercizi per gravicembalo' in coproduction with the Madrid Caja Bank's Spanish music label, Los SIGLOS de ORO, a live recording of Bach's Goldberg Variations, two live recordings of selections from the Fitzwilliam Virginal Book, 'A Cleare Day' and 'Heaven & Earth' . He has also recorded the violin sonatas of Élisabeth Jacquet de la Guerre with the violinist Lina Tur Bonet, and Bach's Well-Tempered Clavier , recorded at the Cité de la musique in Paris on the historic Ruckers-Taskin instrument belonging to the Musée de la musique . The album was released in 2014 to wide acclaim and awarded a "Choc" in the French magazine Classica. 
In October 2018 Kenneth Weiss gave the inaugural recital on the recently restored Taskin harpsichord belonging to the Museu da Música in Lisbon. It is on this instrument that he records Bach's Art of Fugue in May 2021 at the Centro Cultural de Belém.
Kenneth Weiss has held teaching positions at the Norwegian Academy of Music in Oslo, the Juilliard School in New York and the Geneva Haute école de musique. He currently teaches at the Paris Conservatory and where he is professor of chamber music.
https://www.kennethweiss.info/
February 2022
(In French)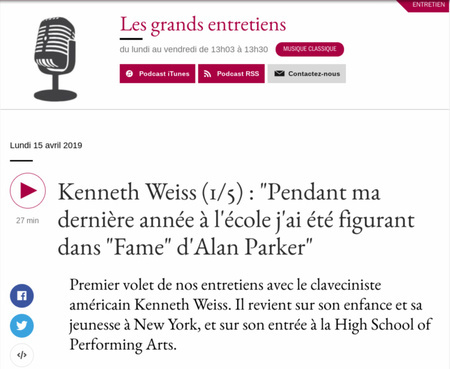 Kenneth Weiss played 17 sonatas in the Radio France Occitanie Montpellier 2018 festival's Domenico Scarlatti 555 Sonatas Cycle with 30 harpsichordists in 35 concerts. The cycle is being broadcasted on Denisa Kerschova's Allegretto programme on France Musique during 2019 as of 11th February. Kenneth's performances, with those of some of his colleagues, are available on replay via the links below :
K.2 - 11 February  
K.5 - 12 February 
K.7, K.8, K.9 - 13 February
K.11, K.12 - 14 February 
K.15 - 15 February  
K.16 - 18 February 
K.21 - 19 February 
K.22 - 20 February  
K.26 - 21 February  
K.29 - 22 February  
K.164 - 26 April 
K.200 - 14 May 
K.222 - 23 May  
K.477 - 19 September
Radio France has now published all the Scarlatti sonatas played by Kenneth Weiss in his 16th July 2018 recital, with the exception of K. 222, on YouTube :


Kenneth Weiss, Art of Fugue, Diapason d'Or, March 2023
"Accomplishing a veritable tour de force, Weiss unfurls the Art of Fugue like a story... full of passion yet never at the expense of a rigorous deployment of the voices. The mastery of structure is amplified by the life-giving impetus that runs through it... this Art of Fugue by Kenneth Weiss, through its clarity of ideas, its deep commitment and sensitivity, earns a position among the work's recording pinnacles."
Jean-Christophe Pucek

Bach - The Art of Fugue, CD Paraty, review by Manuel de Lara Ruiz, Madrid, May 2022
"Kenneth Weiss's interpretation is so wonderfully natural that one ceases to think of the performer and focuses entirely on the uninterrupted hypnotic flow of this contrapuntal apotheosis. However, to achieve all this, Weiss deploys his considerable technical resources, his mastery of tempo and rhythm, of articulation, the coordination between the two keyboards and the clarity of the polyphony, attaining a dimension that is both profound and natural. Although Weiss places great value on the sobriety of his teacher, Leonhardt, he far surpasses him in technique and musicality."


SCARLATTI 555 : LA FOLLE AVENTURE DU FESTIVAL DE RADIO FRANCE OCCITANIE MONTPELLIER
"Kenneth Weiss played through the 17 Scarlatti sonatas without the slightest pause, totally concentrated in a faultless keyboard performance. His teacher Gustav Leonhardt comes to mind when listening, the same respect for the score, the same energetic playing and a certain gravitas in the interpretation but that in no ways diminishes the virtuosity or singularity of Scarlatti's compositions. Kenneth Weiss uses the lower keyboard only, a necessity with these virtuosic sonatas, sometimes adding a bass octave, aiming for homogeneous articulation but also an exultation of sonority in the sequencing of these 17 dazzling sonatas". 
July 21st, 2018 by Michèle Tosi

 Classica, June 2014, Philippe Venturini
Bach Prescription
"A prelude and fugue a day can be said to hold life's tensions at bay," is Kenneth Weiss's medical prescription. Don't hesiste in consulting him. And regularly.
"...shines out as one of the most incandescent readings in the Well-Tempered Clavier discography... an extremely sensitive narrative. Kenneth Weiss's approach is clear from the very first, famous Prelude: that of modesty, true to the words of his presentation text, but also the clarity of polyphony (no overloaded registrations), and both the fluidity of his phrasing and the suppleness of his tempi. Thus he never hesitates to breath before the first note of a bar to mark a modulation or moment of intensity. At no moment mechanical (for example in the endless whirl of semi-quavers of the 2nd Prelude), often jauntily spontaneous (the regularity of the jumping quavers in the left hand in the 5th Prelude), at times boastful and Scarlatti-like (5th Prelude of Book II) but also capable of gravitas but without dragging his feet (Fugue n°8, Book II), Kenneth Weiss is at all times convincing in the positive existential effects of this work."
New York Arts, Michael Miller, 4th May 2014, concert review Salon/Santuary Concerts, 2nd March 2014, Bach, Well-Tempered Clavier, Book 2.
"Kenneth Weiss' playing of the preludes and fugues was restrained and monumental, but nonetheless replete with intellectual insights and intimate moments of feeling, in keeping with the public and private aspects of that particular performative act... As the opportunity for Mr. Weiss's fellow New Yorkers to hear his traversal of the Second Book in the wake of his landmark performances of Bach's keyboard works, this concert was as important as any that has been heard this season." http://newyorkarts.net/2014/05/baroque-instrumental-music-new-york-bach/#.U2X31V5bRFw

New York Arts, Michael Miller, 4th May 2014, concert review, Carnegie Hall, Weill Recital Hall, 20th Febrary 2014, with Fabio Biondi, violin
"Kenneth Weiss took the stage by himself for Bach's Italian Concerto for solo harpsichord. His tempo in the first movement was steady and spacious, projecting a sense of the grandeur of the music, as well as its high spirits. With only rhythm and timing at his disposal, Weiss brought a wealth of expression to this generous music. He played the mournful second movement at a proper andante, which allowed for expressiveness but avoided the lugubrious. The final movement charged off in joyous energy, but kept its feet on the ground. There was no risk of a tumble here, and so much the better. One could only admire Mr. Weiss's sense of proportion and his respect for the music in this rich and satisfying reading of a beloved work." http://newyorkarts.net/2014/05/baroque-instrumental-music-new-york-bach/#.U2X31V5bRFw

The Washington Post, Juilliard Baroque at the Library of Congress, Washington DC, By Robert Battey, Monday, April 16, 2012
'The second half offered vibrant performances of the Overture No. 2.... and the Fifth Brandenburg Concerto. In the latter, harpsichordist Kenneth Weiss navigated the huge cadenza with clean fingerwork and dramatic pacing. His ornamentation and agogic freedom in the slow movement were exemplary, as well...'
The New York Times, 26 September 2011, review of 'A Cleare Day' recital, Musique Before 1800, by Allan Kozinn
'Kenneth Weiss, though born and trained in New York, has built a distinguished career in Europe as a harpsichordist and opera conductor. Lately, he has also spent a lot of time at the Juilliard School, where he is on the faculty of the historical performance program and where his performances both as a continuo harpsichordist in Juilliard Baroque and as a recitalist have been ear-catching and edifying: most notably, in a dramatic traversal of Bach's "Goldberg" Variations in January... The clarity and focus that Mr. Weiss brought to his readings put the ingenuity of these composers in high relief... Mr. Weiss played with a graceful sense of line that transformed these dance pieces into full-fledged concert works.' Complete review : http://www.nytimes.com/2011/09/27/arts/music/kenneth-weiss-in-music-before-1800-review.html?_r=1&ref=music 
Diapason, June 2011, Philippe Ramin
'A superbly recorded live CD, this album demonstrates remarkable subtlety of touch and phrasing. With his admirable capacity for rhythmic stability, Weiss masters the sheer virtuosity and throws new light on the almost orchestral polyphonic complexity of this music. He transcends the interminable harmonic scrolls to hypnotic heights... A powerfully imaginative reading by an musician at the zenith of his art.' 
The New York Times, February 2nd, 2011, Allan Kozinn
'Kenneth Weiss... offered a disarmingly straightforward yet surprisingly dramatic view of the work on Monday evening at the school's Paul Hall. There was little flashiness, as such, in Mr. Weiss's reading on the harpsichord. His changes of coloration over the course of the set were subtle, and he played the repeats with virtually no modifications, apart from adding a touch of rallentando to the final bar or simply a slight pause before the final note.
'But in slower variations, he played with a fluid rubato that often gave Bach's top lines an almost voicelike flexibility. In faster ones, his playing was often unusually driven, though never so aggressive that the transparency of Bach's textures or the distinct profiles of his individual lines were sacrificed. And as the performance unfolded, it became clear that Mr. Weiss was presenting the work as two
simultaneous, tightly entwined dramas, one intellectual (the compositional twists in the variations grow increasingly involved) and one visceral and emotional (they also grow more pointedly virtuosic). When he returned to the Aria, after the 30th Variation ... his interpretation was not fundamentally different from the one he had given when he began the work, 75 minutes earlier. But you had the sense of having been somewhere, and the Aria itself sounded stronger for it.'(Goldberg Variations at the Juilliard School)

BBC Music Magazine - July 2004 - Nicholas Anderson - Rameau, Satirino Records
"As a former musical assistant to Willaim Christie and Les Arts Florissants, Weiss knows very well how to translate the varied gestures and kinetic energy of Rameau's beguiling dances from the orchestra pit to the manuels of a harpsichord. His playing, refined in its technique and communicative in its inflections, pulsates with life, vividly evoking Pygmalion's sculptor's hammer at one moment and the many colourful vignettes of Les Indes galantes at the next. an exhilarating recital, with a recording that faithfully captures the character of two fine instruments by Goujon (c1740) and Hemsch (1761)."
Gramophone - January 2003 - John Duarte - Scarlatti, Satirino Records
"Kenneth Weiss. offers a mixed programme, superbly played at well-judged tempi and recorded with clarity."
Le Monde - 5 January 2002 - Renaud Machart - Bach Partitas, Satirino Records
"This young American harpsichordist. tackling one of the pinnacles of keyboard music, has produced a masterpiece. His calm, composed and subtle approach to these dance suites is magnificently noble. ["Sarabande" de la Partita n°6] In this central piece, Weiss seems to be improvising at the same time as sustaining the spinal column of this superiorly written elegy. We also appreciate the accentuated rubato but very perfection of taste of the allemandes, and his 'ouverture' to the Partita n°4, impeccably upright."
Diapason - November 2001 - Jean-Luc Macia - Bach Partitas, Satirino Records
"Kenneth Weiss is a brilliant musician, distinguished and inventive, to whom we owe, among others, an excellent recording of the Goldberg Variations. (in the 6 Partitas) Weiss's nimble playing, vigorous and poetic, compels admiration. his unbridled yet always controlled virtuosity show him to be a born musician, undeniably gifted with expressive means."
Nouvel Observateur - October 2001 - Jacques Drillon - Bach Partitas, Satirino Records
"It meditates, dreams, at the same time as being controlled with a firm hand. Could we have imagined, ten years ago, that Bach would be presented in such an expressive, expressionist, free and easy, flexible way?"
Le Temps - Geneva - 6 October 2001- Julian Sykes - Bach Partitas, Satirino Records
"This Bach stretches, overflows, dares unexpected slow tempi and explores new territory. the first Partitas are exceptionally poetic. The fourth explodes in a multi-coloured fireworks display.. The sixth reaches zeniths of inspiration."
Télégramme de Brest - 20 October 2001
"To the technical prowess and sobriety of these great performers (Gustav Leonhardt and Glenn Gould), Kenneth Weiss adds a refinement, joy and sensuality that we are little used to associating with the harpsichord. His playing is flowing and velvet-like."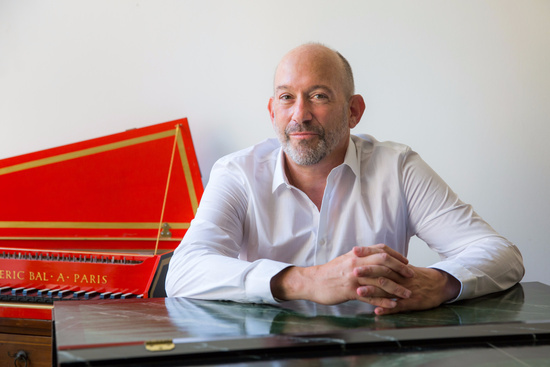 Photo © Jenny Gorman
In 2022-23 Kenneth presents a new programme, Bach - Quaerendo Invenietis  that celebrates the genius of Bach's contrapuntal works, including extracts from several of the great composer's masterpieces - The Well-Tempered Clavier, Musical Offering, Goldberg Variations... and The Art of Fugue, as well as the extraordinary Chromatic Fantasy and Fugue. 
Art of Fugue
Following on from the Partitas, the Goldberg Variations, and the Well-Tempered Clavier, Kenneth Weiss immersed himself in the Art of Fugue during the summer of 2019.
"To take time from a world of distraction, to be fully present in an alternate world of majesty, is a gift accessible to everyone through Bach's Art of Fugue. In his last composition, Bach took his unsurpassed skill of polyphonic writing to even greater heights. Limiting himself to a single theme and spinning an increasingly complex series of contrapuntal variations he created a monument for the ages.
"The theme itself, which retains its original essence while undergoing variations, can be seen as representing our constantly evolving life force. That the final fugue, in which he writes his own name B-A-C-H (b flat, a, c, b natural) as a musical subject, is unfinished, adds to the powerful experience of the work.
"As we listen, the creative spirit that lives within each one of us is joined with Bach's force and spirit - unfinished and eternal."
Kenneth Weiss
Kenneth Weiss's recording of The Art of Fugue on the 1782 Taskin harpsichord belonging to the Museu Nacional da Música at the Centro Cultural de Belém, Portugal, in May 2021 has been released on the Paraty Label.
 
In confinement alone in Paris during the Covid-19 pandemic, Kenneth Weiss records Bach's Art of the Fugue, BWV 1080.
Kenneth is always happy to revive programmes: a French music recital centred on his transcription of Rebel's Les Elémens and including character pieces by several other French composers; A la françoise, that he performed on tour in Japan in February 2018, which presents Bach's 5th French Suite and the French Overture BWV 831 alongside works by François Couperin; the Scarlatti programme performed in the 2018 Radio France Montpellier Festival; extracts from the Well-Tempered Clavier; the Goldberg Variations, and of course programmes that delve into the dreamy world of his Virginalists recordings A Cleare Day and Heaven & Earth.
Seek and ye shall find - the art of counterpoint
Well-Tempered Clavier - Prelude & Fugue in C Major BWV 846
Musical Offering, BWV 1079 :
2 Canons : Quaerendo Invenietis, Canon cancrizans
Ricercar a 3
Prelude, Fugue & Allegro in E flat major, BWV 998
Goldberg Variations, BWV 988 :
3 Canons :
Variatio 15 Canone alla Quinta
Variatio 24 Canone all'Ottava
Variatio 21 Canone alla Settima
Chromatic Fantasia & Fugue, BWV 903
The Art of Fugue, BWV 1080 :
Contrapunctus 1
Canon per Augmentationem in Contrario Motu
Contrapunctus 12, rectus / inversus (mirror fugue)
Canon alla Decima
Contrapunctus 14 (unfinished)
Transcriptions and character pieces for harpsichord
Jean-Henri d'Anglebert (1629-1691)
Ou etes vous allez
Sainte-Colombe (1640-1700)
Les regrets (transcribed for harpsichord by Kenneth Weiss)
Louis Couperin (c.1626-1661)
La bergeronnette, La précieuse
François Couperin (1668-1733)
Le rossignol en amour, Le dodo ou l'amour en berceau, Les idées heureuses, Le tic-toc choc
Jean-François Dandrieu (1682-1738)
L'harmonieuse
François d'Agincourt (1684-1758)
Les violettes fleuries
Louis-Claude Daquin (1694-1772)
L'enchaînement harmonieuse, La favorite
Jean-Philippe Rameau (1683-1764)
Les tendres plaintes, L'entretien des muses
Joseph Bodin de Boismortier (1789-1755)
La puce
Armand-Louis Couperin (1729-1789)
Les cacqueteuses, L'affligée
Jacques Duphly (1715-1789)
Les grâces
Jean-Féry Rebel (1666-1747)
Les Elemens (transcribed for harpsichord by Kenneth Weiss)
Le chaos, Air pour la terre, Le feu et l'eau, Chaconne, Ramage, Rossignols, Loure, Tambourins 1 & 2, Sicilienne, Air pour l'amour, Caprice

Thomas Tallis - Felix Namque, Concert at the Fundación Juan March in Madrid, October 11th 2014
J. S. Bach 1685 - 1750
French Suite (Französische Suiten) No. 5 in G major, BWV 816 (1723)
Allemande, Courante, Sarabande, Gavotte, Bourrée, Loure, Gigue 
François Couperin 1668 - 1733
Les idées heureuses (from the 2nd Ordre)
Le Dodo - ou L'amour en berceau (from the 15th Ordre)
Les tours de passe-passe (from the 22nd Ordre)
Les Charmes (from the 9th Ordre)
Le Rossignol en amour (from the 14th Ordre)
Le tic-toc-choc (from the 18th Ordre) 
 --interval-- 
J. S. Bach
French Overture (Ouvertüre nach Französischer Art) in B minor BWV 831 (1735)
Overture, Courante, Gavotte I/II, Passepied I/II, Sarabande, Bourrée I/II, Gigue, Echo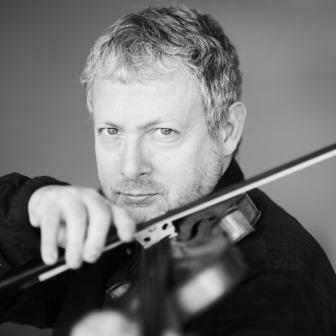 Fabio Biondi - photo © Emile Ashley
Kenneth Weiss regularly performs Bach's violin sonatas with obligato harpsichord with the violinist Fabio Biondi.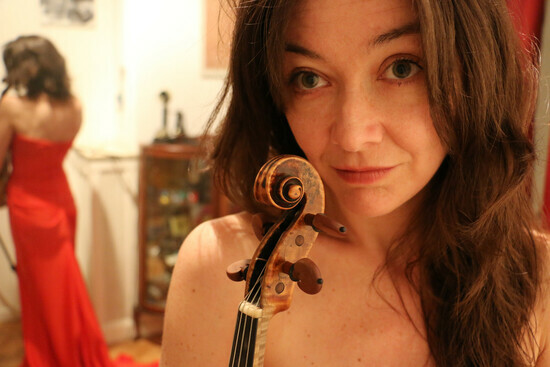 Lina Tur Bonet - photo DR
Lina Tur Bonet is the new arrival in the firmament of Baroque violinists. Her recent Biber recording has received rave reviews in the Gramophone - "bold colours and fervent drama... ​ a grand t​h​eatricality in her manner that generates memorable moments​... ​To end, her Passacaglia is both lithe and affecting, the underpinning of its four-note descending bass impeccably timed." and in the BBC Music Magazine - "Bonet's vivid sens of drama provides the listeners with a sequence of dazzingly colourful images in wich maximum expressive contrast is sought."​
La Petite Merveille and the Red Priest brings together the violin sonatas of the extraordinary French composer Elisabeth Jacquet de la Guerre, who was know in the court of Louis XIV as La Petite Merveille, with Vivaldi's recently reconstructed Graz Sonatas that so well display the Red Priest's brilliant, expressive writing. This programme brings together music from two award winning recordings by Lina Tur Bonet and Kenneth Weiss. They also propose a programme of Iberian works from the early 17th Century - Bartolomé de Selma y Salaverde, Andrea Falconiero - to the early 19th Century - Boccherini. Bach sonatas are on their way! linaturbonet.com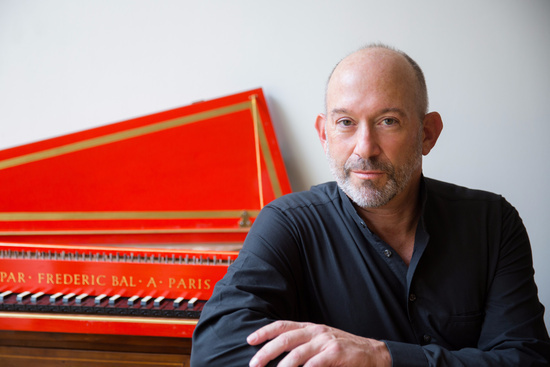 Photo © Jenny Gorman
Extract from Kenneth Weiss's recital performance of Book 2 of Bach's Well-Tempered Clavier at the Cité de la musique in Paris on 16th March 2014.
The complete recital can be viewed on the Philharmonie de Paris' website via this link.